Taurus 66 .357 Magnum Seven-Shooter Review And First Thoughts
The Taurus Model 66 was first introduced in 1978 as a six-shot revolver and gained its plus one capacity in 1999.
TAURUS 66 Revoler: Thoughts & Specs
Even though Taurus was sold to its current owners in 1977, the die was already cast and the designs have remained extremely similar every since. Then in 1980, after completing contracts to produce firearms for Brazil's military forces, Taurus purchased Beretta's Sao Paulo manufacturing plant along with the tooling, technical drawings and workforce necessary to produce several semi-automatic pistol designs.
Weight & Size
The Taurus Model 66 is a medium frame revolver chambered for the powerful .357 Magnum cartridge. But, even so, the gun is equally at home firing reduced power .38 Special ammunition on the firing range. It is constructed of a forged stainless steel that is then bead blasted for a non- glare appearance. The six shot fluted cylinder is rated for full power magnum loads and the 4- inch barrel features an full underlug that protects the ejector rod from being bent if the underside of the barrel were to violently strike against something, or even get dropped.
The gun is somewhat beefy and weighs in at 38- ounces. While it may not make the ideal concealed carry gun, the Taurus 66 is more than capable from a nightstand, center console, desk drawer or strapped to your hip while out hunting. The rubber grip accommodates al three of the shooters gripping fingers for a firm and secure hold, and also helps to absorb recoil. A transfer bar safety is mounted on the frame. If you're unfamiliar with the function of a transfer bar, it prevents the hammer from striking the firing pin unless the trigger is pulled fully to the rear. The invention of the transfer bar allows the revolver to be carried with a full five rounds in the cylinder without the chance of the hammer being snagged and / or being dropped, then inadvertently discharged.
Options
The Taurus Model 66 comes with either a four or six-inch barrel, as well as a couple of different finishes, such as matte stainless steel or matte oxide.
The Taurus 66 definitely had a great balance and the finish looked like it would be pretty durable. When Taurus packed the Model 66, they included a rubbery protective cover over the rear adjustable sight for shipping, which seems like a thoughtful touch. The ramped front sight came with a red translucent insert, which does brighten if lighting conditions are right, but even without catching the sunlight, the red insert contrasts the black rear sight enough to still be effective.
Grip
The squarish rubber grips supplied with the Taurus 66 fits the hand quite well, and the shallow finger groves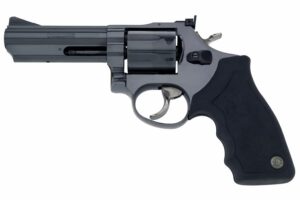 weren't distracting, nor did they require extra time fitting into them each time. The grips were also relatively thin and wrapped around the back strap, which should cushion the hand more under recoil. I was surprised to see the grips had metal inserts in them to maintain their rigidity.
After dry firing a few times out of the box, it was noticeably grittier compared to the excellent trigger of the Taurus 605.
Basic Specs:
Item Number: 2-660049

UPC: 7-25327-20015-4

Capacity: 7 Rounds

Action Type: Double Action / Single Action

Firing System: Hammer

Front Sight: Fixed

Rear Sight: Adjustable

Grip: Soft Rubber

Cylinders Included: 1
Caliber
Measurements
Frame Size: Medium

Barrel Length: 4.00 in.

Overall Length: 10.50 in.

Overall Height: 5.70 in.

Overall Width: 1.50 in.

Weight: 38.00 oz
Features
TSS (Taurus Security System)
Safety
Materials
Frame Material: Stainless Steel

Barrel Material: Stainless Steel

Cylinder Material: Stainless Steel
Finishes
Frame Finish: Matte Stainless

Barrel Finish: Matte Stainless

Cylinder Finish: Matte Stainless
Loading and unloading are much more user friendly, and accomplished by using gravity to drop rounds or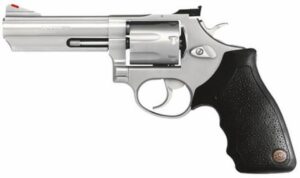 shells directly into the 7 shot cylinder, versus a wrestling match trying to cram rounds into a magazine under spring tension. In addition, revolvers aren't picky about the types of ammo they fire. When encountering misfires, rather than highly skilled clearance drills required to get a semi- auto back on line, revolvers only require that an operator squeeze the trigger again. Yes, basic gun handling skills prevent some of the operator-induced mistakes that cripple semi-auto's, but these type of errors are practically non- existent on a revolver.
TAURUS 66 RANGE & FIELD TIME
Despite the trigger, it did take a bit to get familiar with, but it broke consistently each time, and actually seemed to smooth out as time went on.
The majority of the trigger pull is really smooth until the sear is reached, and at that point, it feels like something is slightly gripping the trigger, but it's not hard to maintain the point of aim, nor does it require lots more pressure to work through. The trigger then breaks cleanly. As the Taurus 66 trigger's grittiness smoothed out, I began to really like it, even with the short grippy section close to the break.
FINAL THOUGHTS
The Taurus 66 is not the prettiest looking revolver, but its overall aesthetic gives it an air of being rugged and built for being in dirty environments, all of which I find pleasing to the eye in its own way. I was glad that the trigger smoothed out through use and dry firing, but I was surprised it needed it at all after handling the Taurus 605. I'm never a fan of the internal locks, but there doesn't seem to be much information about Taurus' internal lock being an issue, and it never seized up on me during my evaluation.
The Taurus 66 as tested was completely reliable and ate every varied round I put through it. I especially liked the seven-round capacity, even though I didn't have any speed loaders for it, and I can certainly recommend the Taurus 66. The Model 66 is listed for $569.92 on Taurususa.com, which is pretty affordable for a workhorse revolver.
If you've experienced this gun, feel free to let us know your thoughts in the comment section.